Since 2005 I have been hand-painting and crafting porcelain artworks inspired by my experience of the colours and textures of the natural landscape – horizons, clouds, sunsets, waves, fields, mountains, beaches etc. – and more recent work is also deeply inspired by my wild and untamed imagination, spiritual journeying and meditation!
I create with expressive and experimental mark-making, alongside more formal arrangements of colour and glaze, drawing inspiration from the cool greys, greens and blues of the Gower Peninsula in south Wales (UK); the rich warmth of oranges, purples and pinks of the island of Oahu, Hawaii (USA); the dusty yet vibrant landscape in Goa and Karnataka (India); and the luminosity and tranquility of Koh Phangan (Thailand).
Driven by a fascination and curiosity with the spatial and visual association of colours, layering and mark-making, and the serendipitous nature of the creative process, I make two and three-dimensional porcelain forms: currently paintings, vessels and light-shades (which are translucent).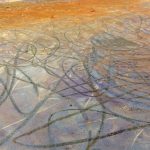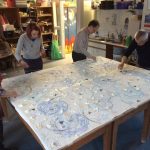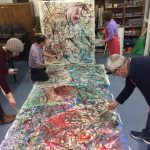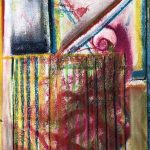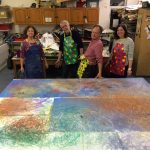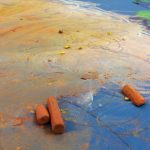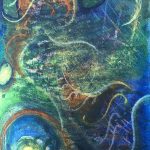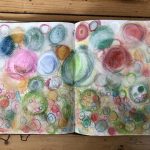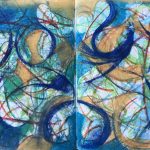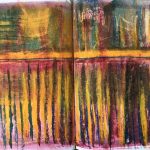 Drawing is a process of communication, expression or recording a visual, sensory or emotional experience. Colours, tones and their relative arrangements in space are the essence of visual experience.
I find making marks and mindfully doodling with colours incredibly relaxing and meditative. Focusing on the journey as opposed to the outcome, the playful interactions of line, colour, texture and layering are allowed to dance, move and evolve to create curious, often abstract spatial illusions. Working intuitively, I focus on the process of playing, experimenting and discovering as I create, allowing the drawing to evolve organically into whatever feels right in that moment.
I facilitate "Experimental Drawing" classes for all ages and abilities, as I believe that everyone can draw and express themselves, we just need to get out of our own way and lean in to experience the unknown!
Anthropologie, 1-4 New Bond Street, Bath, BA1 1BE
Bircham Gallery, 14 Market Place, Holt, Norfolk, NR25 6BW
Elfair, 16-18 Clwyd Street, Ruthin, Wales, LL15 1HW
Giddy Arts, 1 Victoria Road, Saltaire, Bradford, BD18 3LA
Hawksby's Gallery, 111 Main Street, Haworth, West Yorkshire, BD22 8DP

Linda Lovett Gallery, 41 High Street, Jedburgh, Scotland, TD8 6DQ

MADE 14a Orange Street, Uppingham, Rutland, LE15 9SQ
MADE Cardiff, Lochaber Street, Roath, Cardiff, CF24 3LZ
Mick Oxley Gallery, Craster, Northumberland
Oriel Makers Gallery, 37 Pen-y-Lan Road, Roath, Cardiff
"Every Child is An Artist"
Ali's an excellent teacher & her commitment, knowledge & experience of kundalini yoga shines through in each class I've been to, whether in the studio or online.
I have been looking for the right class for me for a while, and after the first 1 or 2 sessions I was hooked. I'm loving it!
There is a nothingness to the practice that leaves me cleansed. It's like looking into a fire for a very long time and feeling your mind washed.
That was an incredible workshop, thank you! So much energy... thanks for all the time you put into it!
Thank you so much. Today's session was gorgeous! I felt wonderful afterwards. It was exactly what I needed! 🙂
Thank you so much for your 'doodle' classes through this most difficult of times Alison. It's great your positive optimism and smile gets us all creating amazing work and gets me feeling better about life in general.'
Experimental drawing is a great class, an opportunity to explore different mark making with a range of media, to respond creatively to music, to allow the luxury of play without judgement.
I've been attending classes for 3 years and during that time I've developed physically, emotionally and spiritually. Alison encourages me to take my practise further and offers modifications to exercises where I need them. I highly recommend her classes!